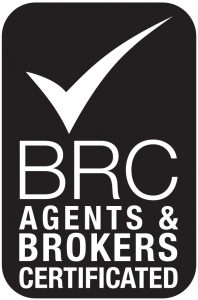 BRC
QFN has been BRC certified since 2016 and was the first sole brokerage house in dried fruits, edible nuts and seeds to be BRC certified. BRC Global Standards is a leading Safety and Quality certification program with certification issued through a worldwide network of accredited certification bodies. The standards guarantee the standardization of Quality, Safety and Operational criteria and ensure that manufacturers fulfil their legal obligations and provide protection for the end consumer.
All our suppliers comply to our BRC standard.
Download Intern Auditor (PDF)
Download BRC certificaat (PDF)
Warehousing
We cooperate with a leading independent bonded warehouse close to Rotterdam. This is a food grade warehouse with HACCP and SKAL certification and offer cold and chilled storage with rack or floor space; also dedicated space is available if required. The warehouse can act as fiscal representative and arrange custom's clearance and transport from port to warehouse.
For suppliers who want to start warehousing in Europe QFN can act as their sales representative for this warehouse stock.